​
Join Ahwatukee Republican Women at our Chocolate & Politics General Meeting on Thursday, February 15th!
Visit our Facebook page and let us know you're coming!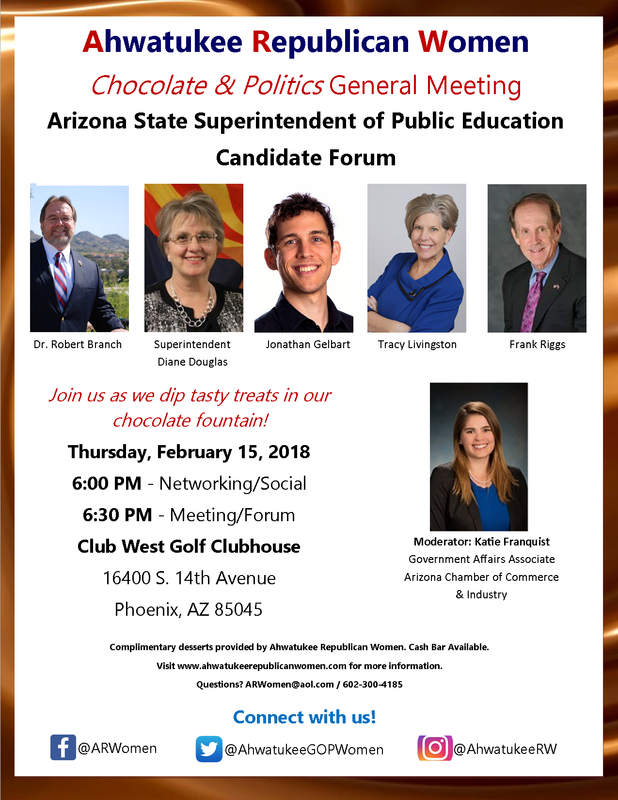 Join ARW members at the Arizona Federation of Republican Women
2018 Winter Meeting in Tucson!For more information, visit the AzFRW website.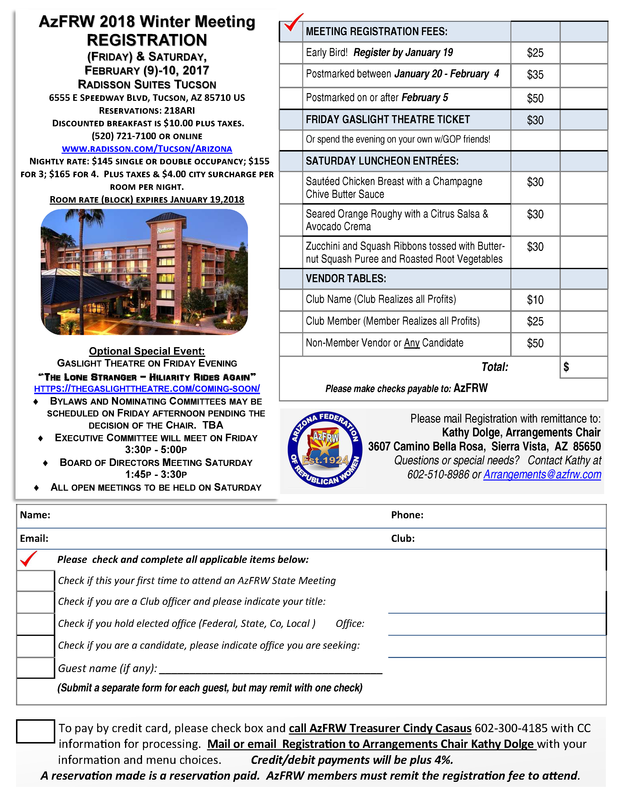 This Christmas season Ahwatukee Republican Women was proud to support UMOM Day Centers.
Please visit their website for information about their organization and to view a list of much needed items.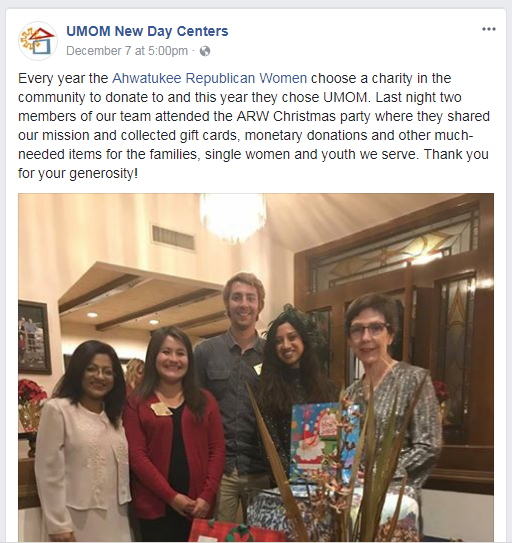 Welcome! Thank you for visiting our website!

Ahwatukee Republican Women (ARW) is part of a grassroots network of Republican women throughout the United States. We are a local affiliate of the Arizona Federation of Republican Women (AzFRW) and the National Federation of Republican Women (NFRW). By joining our organization, you become a member of both the AzFRW and the NFRW. We are dedicated to empowering Republican women of all ages and backgrounds, strengthening the Republican Party, and working to influence the crucial issues that our community and nation face.

Locally, ARW works closely with the Arizona Republican Party (AZGOP), Maricopa County Republican Committee (MCRC) and the Republican National Committee (RNC) to bolster the size and strength of the Republican Party through the recruitment of qualified candidates for office and the fortification of our grassroots community network. In addition to political education and participation, our platform includes community service, supporting our troops, scholarships and literacy.

General meetings are held on the 4th Wednesday of the month (unless otherwise noted) at Mountain View Lutheran Church, 10831 S. 51st Street, I-10 & Elliot Road., Phoenix, AZ 85044. Social Networking begins at 6:30 PM and the Call to Order begins at 7:00 PM.

Membership is not required to attend meetings, nor is it for women only. Men are always welcome and encouraged to join as Associcate Members.

Please consider joining Ahwatukee Republican Women as we work together to make a difference in our community. We would be thrilled to count you as part of our organization and look forward to getting to know you better while working to strengthen the Republican Party and preserving our Constitutional Principles.

Respectfully,
Cindy Casaus, President
Ahwatukee Republican Women
---
Educating, Empowering and Engaging Republican Women
So We Can Make a Difference!


CLICK ON LOGO BELOW TO ENTER WEBSITES


Mission Statement


"The mission of this organization is to develop an intelligent and active Republican electorate; to unite women to work with core Republican principals; to promote American principles and ideals; to increase the effectiveness of women in the cause of good government; to support the Republican efforts and campaigns of the local, state and federal government."

---
A National Federation of Republican Women Diamond Club
---

The National Federation of Republican Women Diamond Award is presented to clubs that demonstrate excellence in membership development, campaign activities, community relations, programs, and club functions. www.nfrw.org